YEA! Young Entrepreneurs Academy

or TO BECOME A SPONSOR ContactYEAmb@manhattanbeachchamber.com
Founded in 2004 at the University of Rochester with support from the Kauffman Foundation, the Young Entrepreneurs Academy (YEA!) is a groundbreaking and exciting program that transforms local middle and high school students into real, confident entrepreneurs. Through the year-long program, students in grades 6-12 generate business ideas, conduct market research, write business plans, pitch to a panel of investors, and launch their very own companies.
During the academic year, students meet on Wednesdays from 4:30 PM - 7:30 PM for 24 weeks at Mira Costa High School (Manhattan Beach), coached by over 50 entrepreneurial professionals. YEA culminates in an Investor Panel and the opportunity to win seed money for their business. APPLY HERE.
Meet Dallas Nurre - Winner 2022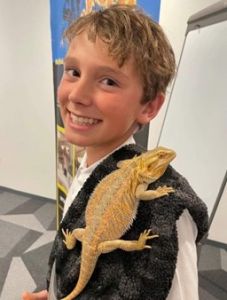 Dallas Nurre - 1st Place Young Entrepreneur Academy (YEA) and 3rd Place RIT Saunders National Competition - invented The Reptile Rover, a wearable sling for pet reptiles. A venture sparked by his desire to bring owners and their pets closer through doing more activities together, Nurre's energetic presentation style, coupled with his well-crafted business plan, won over sponsors and judges alike. 12- year old Nurre was ultimately awarded start-up funds and a scholarship to Rochester Institute of Technology. Nurre is also an accomplished water polo player, and as a rising 7th grader, Nurre plans to, "grow my business to much larger heights and expand as much as I can. You're going to see Reptile Rovers in local pet stores soon." Nurre credits YEA for his success and adds, "Now, instead of just being a kid, I'm the CEO of a company." … Be the next YEA! success story. APPLY HERE.
The Young Entrepreneurs Academy (YEA!) is a life-changing program, which positively impacts students and the entire community alike. From exciting local business mentors and guest lecturers to dynamic field trips to local companies, students learn how to develop and run an actual enterprise in a fun, project-based approach. Simply complete the YEA! Application Form and pay the nominal application fee. Students will be contacted for an interview. Upon acceptance, students will be guided to complete the registration process.
Develop and deliver experience-based entrepreneurship programs to young people to:
Enable them to transition successfully to adulthood
Help them to pursue their dreams by harnessing their creativity and energy
Help them transform their ideas into tangible enterprises that create economic and social value for a better world
Develop the character of tomorrow's leaders based on personal principles and values
Enable educational institutions and Chambers of Commerce to provide successful and effective entrepreneurship programs for middle and high school students;
Create a culture of innovation in schools and communities across the nation
Foster the entrepreneurial mindset in young people, educators, and community members. APPLY HERE.
Vesta Sung - YEA! Program Manager
Vesta Sung brings to YEA! her international background - born in the USA and raised across three continents - with diverse professional and educational experiences. Vesta holds degrees and certificates from Loyola Marymount University (BS, Computer Science), University of Southern California (MBA, Entrepreneurship & Finance), George Washington University (Project Management), and the University of California at Los Angeles (College Counseling). Experiences range from working at Fortune 500 companies such as IBM, Disney, and DirecTV, at .COMs, and with her own businesses as a College Counselor and as a music professional. Vesta enjoys her two grown daughters, and in her spare time she is an active member of the community on the Board of Directors for the city's Community Emergency Response Team, and as an EMT and Mass Care Supervisor for the Red Cross.
Rachel Thomas - YEA! Instructor
Rachel Thomas has been the YEA instructor since it came to Manhattan Beach in 2015. An experienced entrepreneur, Rachel's English degrees from Truman State University (BA) and University of Iowa (MA) coupled with 29 years of teaching, allows her to reach students of varied learning styles effectively. With additional certificates from the University of Southern California (Business Management), the University of California at Irvine (GATE), and the Journalism Education Association (Editing), the Manhattan Beach Unified School District has been fortunate to have Rachel as an English teacher for over 22 years, initially at Manhattan Beach Middle School and currently at Mira Costa High School.