Manhattan Beach Hometown Fair is Back!
Written by Joe Marcy, President, Manhattan Beach Hometown Fair Association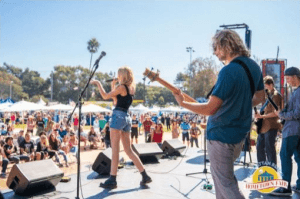 Together we celebrate. Our community tradition is back in-person!
The 49th Annual Manhattan Beach Hometown Fair - October 2-3, 2021
An event organized by the community, for the community.
We can't wait to welcome you back! The Manhattan Beach Hometown Fair is an event organized by the community, for the community. We need it now, more than ever. Let's gather safely, fundraise for local non-profits and enjoy arts and entertainment. Admission is free.
The Hometown Fair is a platform for organizations to fundraise and raise awareness. When you purchase food, order a round of drinks or play a paid game, you support charity. The Beer Garden will help support Mira Costa High School's Tech/Drama Boosters, Cross Country, Boys Indoor Volleyball and Band. The Wine Garden will help support Leadership Manhattan Beach and the Neptunian Woman's Club.
This year's fair is special for many reasons. It's a celebration of our community and our resiliency. Expect to see traditional fair elements with modifications.
We've been working closely with the County of Los Angeles and the City of Manhattan Beach. We share a common goal, to create a safe and healthy environment for all to enjoy.
Bring your appetite because your favorite menu items are back! More than 175 Arts and Crafts booths will line Valley Drive. The entertainment stages are loaded with talent. Battle of the Bands is back in person. We've expanded free games - enjoy them across Dorsey Field and Kid Country. You don't want to miss the opening parade and ceremony on Saturday morning. We have an extensive collection of memorabilia donated by the community. Visit the exhibit at the Joslyn Center. Fair merchandise and Wine Garden drink tickets are available for pre-purchase on www.mbfair.org.
High-quality mugs, apparel (shirts, hoodies, tanks) and bucket hats will be sold.
The silent auction was so successful last year, it's coming back! Beautiful jewelry, experiences, beach cruisers, hotel stays and more. Visit the fundraising booth on the fairgrounds or bid online. We added a raffle this year! With rising costs, we need the community to help support our fundraising efforts.
Here is what you can expect this year!
STAGE HEADLINERS
Saturday
10am Frank Jung (Alt. Rock)
12pm JMD (Reggae/Blues)
2pm Gage Hall (Rock)
4pm White Chocolate Martini (Jazz / Blues)
Sunday
10am Battle of the Bands Finalists: The Meerkats & Fake News
12pm The Illusions (Rock)
1pm Wais (Indie)
3pm Cliff Beach (Funk
Saturday
10:30am Randy Coleman
12:15pm Lisa Richie
1:30pm Joe Cipolla & the Pink Roach Band
4pm Dietz Brothers
Sunday
10am Hyperion Outfall Serenaders
12pm Thin Ice
2pm Jodi Siegel
3pm Scream Revolution
4pm Triple Bueno
Saturday
11am Andy Roader
1pm Music Rhapsody Ensemble
2pm Smoky Hollow Bluegrass
5pm Blue Dice
Sunday
11am Rise Academy of Dance
1pm MB Poetry Circle &
Mira Costa Poets
and more…
Saturday & Sunday
Animal Shows, Pony Rides, & Petting Zoo
11:00am Obstacle Course
11:30am Magic Show
12:00pm Hula Hoop Contest
1:00pm Sack Race
1:30pm Magic Show
Free games on Dorsey Field (unless noted below)
Saturday & Sunday
11am Sack Race
12pm Water Balloon Toss
1:30pm Hula Hoop Contest
2pm Ping Pong Contest (Ganz Memorial)
3pm Obstacle Course
3:30pm Jelly Bean Guess (Saturday only
1pm Kelly Fitzgerald (Saturday)
1pm Dave Leahy (Sunday)
Saturday 10am
City Council & Mayor Hildy Stern
Supervisor Janice Hahn
HTF President Joe Marcy
Manhattan Beach Boy Scout Troop 849
Girl Scout Troop 70755
Vintage Woodies
Mira Costa Marching Band and Color Guard
MBMS Choirs
And More...
Frequently Asked Questions
Will the fair charge for admission this year?
No, admission is free. It's our tradition to welcome everyone.
What changes should we expect due to Covid?
We expanded our layout to allow distancing between booths.
Kid Country will have inflatable arcade games instead of bounce houses.
The Toddler Trot and Diaper Derby will return in 2022.
We ask our vendors, volunteers and guests to follow safety protocols.
Touchless, pre-purchase options are available in merchandise and wine garden.
We've moved our complimentary parking lot/shuttle to Kinecta Federal Credit Union at 1440 Rosecrans Avenue, Manhattan Beach. This location is closer to the fairgrounds, allowing for shorter travel time.
What else is new?
You have to try the new organic seltzers in the Beer Garden and roseade in the Wine Garden. They're so refreshing and fun!
We want your feedback. Your fairgoer experience is important to us. Please complete the survey at www.mbfair.org.
THANK YOU
Thank you to our loyal fairgoers. We're proud to serve our community. Thank you for nominating the Hometown Fair for the Best of Manhattan Awards - Making a Difference.
Thank you to the City of Manhattan Beach, our City Council and City Staff. To all the volunteers signing-up to work. (It's not too late to participate, visit www.mbfair.org) To the businesses donating to the auction/raffle and to all the vendors showcasing fair weekend. To the Manhattan Beach Chamber of Commerce. We couldn't do this without you!
Thank you to the Manhattan Beach Hometown Fair Association Board of Directors:
Joe Marcy, President
Dana Old, Vice President & Director of Special Events
Jeanna Harkenrider, Treasurer
Karen Tokashiki, Secretary
Nellie Ambrose, Director of Games/Member At Large
Kari Carpino, Director of Volunteers
Diane Charvat, Director of South Stage
Tamarie Cuneo, Director of Arts & Crafts
Kim Edwards, Director of Information, Free Speech & Civic Corner
John Ewing, Director of Food
Mark Finley, Director of Main Stage
Renee Hall, Director of Food
Taylor Hartwig, Director of Community Showcase
Tom Jeffry, Director of Kid Country
Anne Kelly, Director of Merchandise
Robert Manriquez, Director of Environmental Services & Communication
Mary Morigaki, Director of Wine Garden
Mary O'Keefe-Fay, Director of Community Relations
Betty Wan, Director of Publicity
Peter Yollin, Director of Security
Bea Zimbalist, Director of Beer Garden
These individuals work tirelessly to make this event possible - including late nights in the Joslyn Center to implement new health and safety measures. They're unsung heroes.
Written by Joe Marcy, President, Manhattan Beach Hometown Fair Association